Painting
Allotments, Aldeburgh (2017)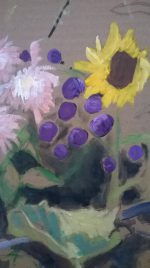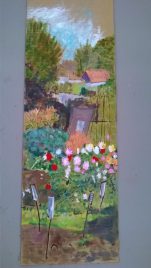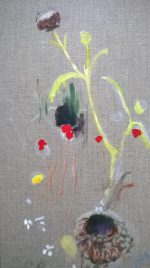 As an artist, Venetia Rose is celebrated for her colourful landscapes and vivid portrayal of abstract floral themes. Her latest exhibition explores the changing seasons in the magical allotments that encircle Aldeburgh, one of the most beautiful towns on Suffolk's Heritage Coast.
But there is a more challenging depth to Venetia's work than meets the immediate eye. As with her previous collections, Venetia captures the beauty of nature while also exploring the intriguing space between what we see and what we don't quite see – both physically and metaphorically. Ideas and images adjust on the breeze of perception. Just as the allotments themselves sway between the town and the mystical marshes on its fringes – so different geometrical patterns emerge, vertically and horizontally. This brings a thoughtful wit to Venetia's work – at first glance, a hugely decorative celebration of sunflowers, chrysanthemums, artichokes, beans and a miscellany of plants and pots, but equally a vibrant exploration of open and empty spaces, punctuated by exquisite colour and seasonal sensitivity.
Click here to receive updates on Venetia's latest exhibition, Crete and British Establishment Nazis
---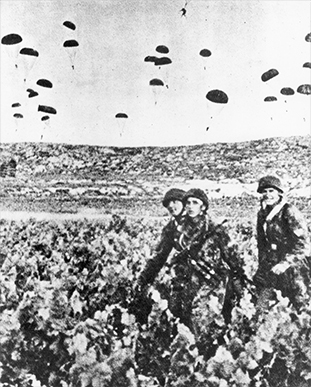 1941, The Battle for Crete (due 2018)
In this dramatic departure from previous work, Venetia Rose Freyberg re-traces her family roots in a compelling visual biography of her grandfather, General Bernard Freyberg VC, celebrated among Britain's most decorated warriors.
The exhibition re-sets the conventional narrative of one of the most significant battles of World War II – powerfully combining visual storytelling with a new historical framework and research and a curated collection of photographic evidence. Using Venetia's exploratory technique that weaves challenging ideas into the spaces created between what we see and what we don't quite see (or choose not to see), the exhibition features as its centrepiece challenging new works, including British Establishment Nazis and The Massacre at Paramythia.
---
Earlier exhibitions by Venetia Rose Freyberg include: Flowers (2005) and In Search of Rembrandt (2009) – the latter accompanied by a pamphlet considering the relationship between the Dutch Master and his contemporary artist, Jan van Goyen. Both shows were held at Gallery 54, Mayfair, London.